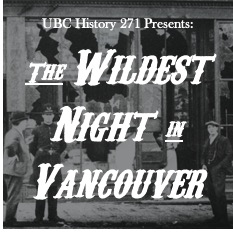 Sponsored by the UBC Department of History and funded by the Department of History Public History Initiative, students in Dr. Tristan Grunow's History 271 "Japan and Global History, 1550-1900" classes in the Spring of 2018 and 2019 produced the following digital resource documenting and reliving the history, trauma, and legacy of the 1907 Anti-Asian Riots in Vancouver.
Special thanks to 101.9 CiTR campus radio for editorial consulting and for equipment support, along with UBC Arts ISIT for technical support.
---
Over three nights in early September of 1907, as many as 500 white "rowdies" rallied by the Asiatic Exclusion League vandalized dozens of Asian-owned stores in Vancouver's largely Chinese and Japanese downtown eastside, breaking windows, causing tens of thousands of dollars of damage, and fatally wounding one Japanese-Canadian person. Further damage and loss of life was prevented only by the armed defense of Chinese, Japanese, and South Asian store owners and residents of the neighborhoods with the support of city police. In the days following the riots, storefronts were repaired and lives were rebuilt, but the disruptions of immigrant communities and the historical legacies of an event the Consulate-General of Japan dubbed the "wildest night ever seen [in] Vancouver" were much more lasting.
Now, over a century after the 1907 riots, xenophobia and racism continue to threaten the Lower Mainland community. The targeted populations now come from different geographic regions: from South Asia, from Southwest Asia, and from the Middle-East. But the attitudes of racial and religious suspicion, along with discrimination and Othering of all forms, remain the same. It is instructive at this moment, embracing the spirit of recognition, reconciliation, and apology for community members to relive the background, events, and legacies of the 1907 riots and to reflect on the dangers of nativism and racism.
---